[VIDEO] Seamless lighting simplified.
Regular price
Sale price
£34.90 GBP
Unit price
per
Sale
Sold out
60W 7 Output Cabinet Display LED Driver 24V

*Includes x1 black coloured 2M (2000mm) UK mains plug to C7 kettle lead.
This 7 output, slimline cabinet LED driver by Uprise offers quick and simple PowerUp to single colour LED tape lights. Ideal for areas where space is limited and a thin LED power source is required. With it's 60W capacity and 7 micro connectors upto x6 24V LED products / LED tape strips can be connected effortlessly. Compatible with next generation hand wave sensors as well as single and double door sensors means turning your lighting setup on/off has never been easier.

Download Cabinet LED Drivers Q&A Sheet PDF for more support.
Outputs
With 7 micro connectable outputs you can easily run 7 separate LED areas or shelves.
Connectable Accessories
Connect a hand wave, touch, or even a single door or double sensor (inline or master).
Power Consumption
This cabinet LED driver is rated at 60W. 
Size
Ultra thin design at just 18.5mm depth for hidden installation. 204mm x 56mm x 18.5mm
Wiring
7 outputs with micro connection terminals. Keep wiring tidy and professional.
Testing
100% full load age testing, consistent with world lighting safety standards.
Circuit Protection
Open circuit, short circuit, overload and overheating protection.
Standards
All of our Uprise LED drivers are TUV/CE/SAA/ETL/FCC approved.
Choose your lengths
This product is compatible with all our 24V marker LED downlights, cabinet pad downlights, seamless cob and single colour LED tape lights. Simply decide the lengths required and ensure that the total wattage across all lengths when totalled does not exceed 60W - 10% (54W) to build in a safety buffer.
Application
A thin and functional LED driver that's best suited for fitouts within cabinet displays, under pelmets, shelves, signage and within coves. It's also suited for many other applications whereby space is limited and multiple lengths of LED strips are desired.
The driver is only 4mm wide and standard IP20 rated. This provides complete protection against solid items over 12.5mm like finger touch. LED strip lights with IP20 rating are perfect for inside applications.
IP Rating
This LED supply is IP20 rated and suitable for internal applications. 
Environments
Create a stunning, continuous visual aesthetic within the home, add beauty to your walk in wardrobes, designer cabinets, or prestigious wine racks by combining this PowerUp 100W LED driver with a range of our seamless cob LED tape lights.
Quality Assurance
Uprise believes in long-term value, which is why our enterprise class LED tape lights include high-quality, long lasting components. Color consistency and uniformity are important for the right finish for all our LED strips.
Uprise offers a wide variety of wall & DMX controllers, receivers and Dali, 0-10v dimmers, Triac Dimming (Mains) and alternatives. For splendid visual aesthetics and end dimming results, you can also view the Dim to Warm & Seamless COB flexible LED strip
Specifications
General
Product Type:

 7

 output cabinet LED driver
IP Rating:

 

IP20 
Brand:

 

Uprise
Electrical
Power Range:

 

18W-60W
Input Voltage:

 

200-240V
Output Voltage:

 24

V +/- 5%
AC Input Current:

 

0.36A
3A Port:

 

7
5A Port:

 

1
Outputs:

 

x7 micro connectors
Wattage:

 

60W
Voltage:

 24

V
Surge Protection:

 

1.5Kv
Sensor Connectivity
Sensor Port:

 

PHB 2.0
Sensor Compatibility:

 

Hand Wave Sensor / Touch Sensor / Single Door Switch / Double Door Switch
Dimensions
Width:

 

54mm
Height:

 

18.5mm
Length:

 

136mm
Installation
Guarantee
Certification / Standards:

 

CE, SELV, RoHS, UKCA
Warranty:

 

3 Years
Packaging
Packaging:

 

White cardboard box
Net Weight:

 

375g
I need help designing my project, can you help?
Our team of LED experts can assist you with your design from start to finish. You will be provided with a quotation, wiring diagram and support documentation to help get the result you deserve.
What style of LED tape lights is this compatible with?
This driver is compatible with any 24V 2 core single colour LED tape strip or 24V LED source such as lamps, battens or marker LEDs. Contact us for more information.
How can I buy?
You either buy individual components online or call us on 0116 406 2959 or email us at sales@uprisemed.com and a member of our team will help you with your project.
What support will I receive once I've purchased?
Our aim is to ensure you get an end result that you are completely satisfied with, we're here to help.
Questions & Answers

I need help designing my project, can you help?

Our team of LED experts can assist you with your design from start to finish. You will be provided with a quotation, wiring diagram and support documentation to help get the result you deserve.

Can you custom cut this strip to length?

We can custom cut your LED tape lights, Neon Flex and LED extrusion profiles to exact specification. Contact us for more information.

What aluminium LED extrusions can I fit this into?

This product is 12mm and will fit into all LED profiles with an inside width of 12mm and above.

How can I buy?

You either buy individual components online or call us on 0116 406 2959 or email us at sales@uprisemed.com and a member of our team will help you with your project.

What support will I receive once I've purchased?

Our aim is to ensure you get an end result that you are completely satisfied with, we're here to help.
View full details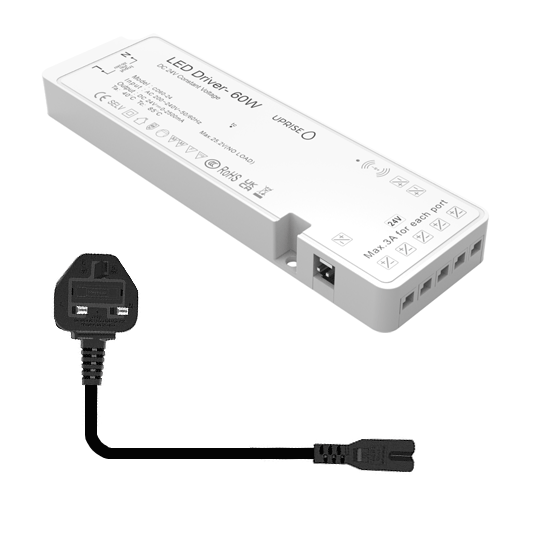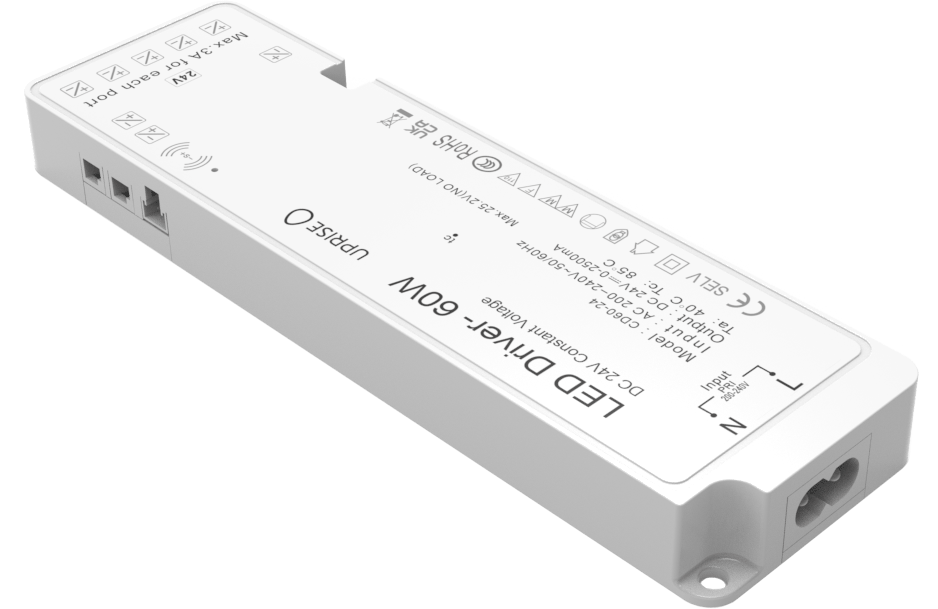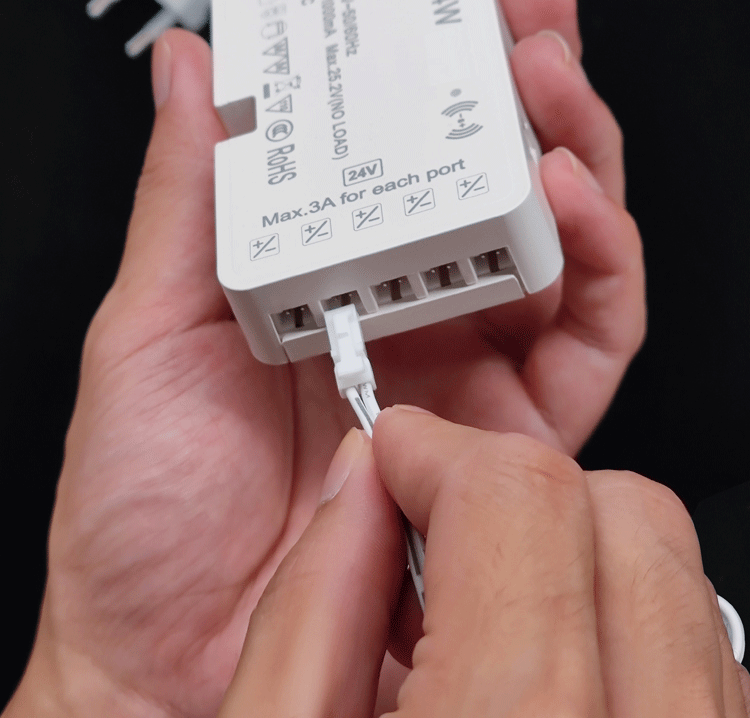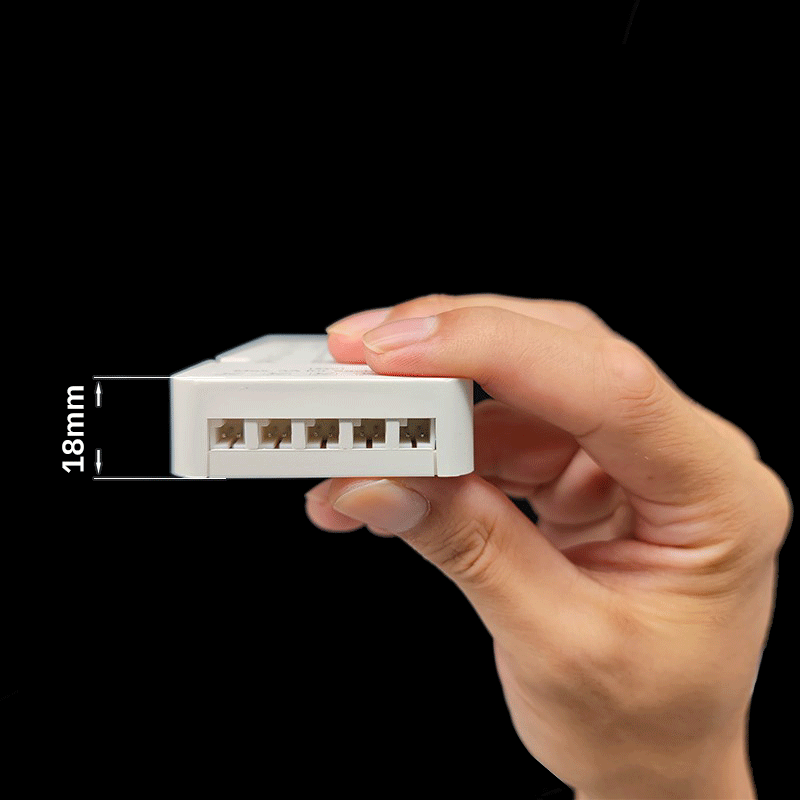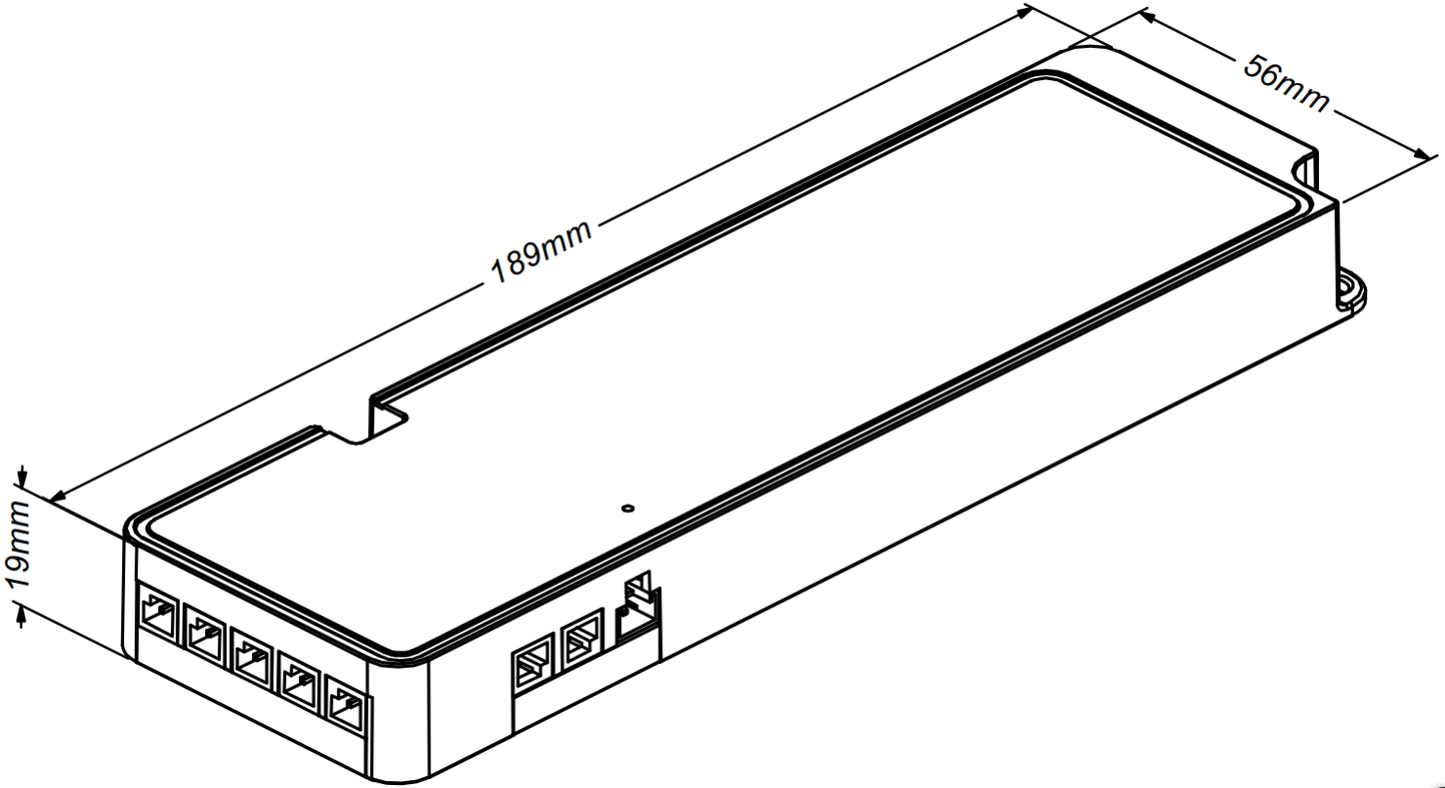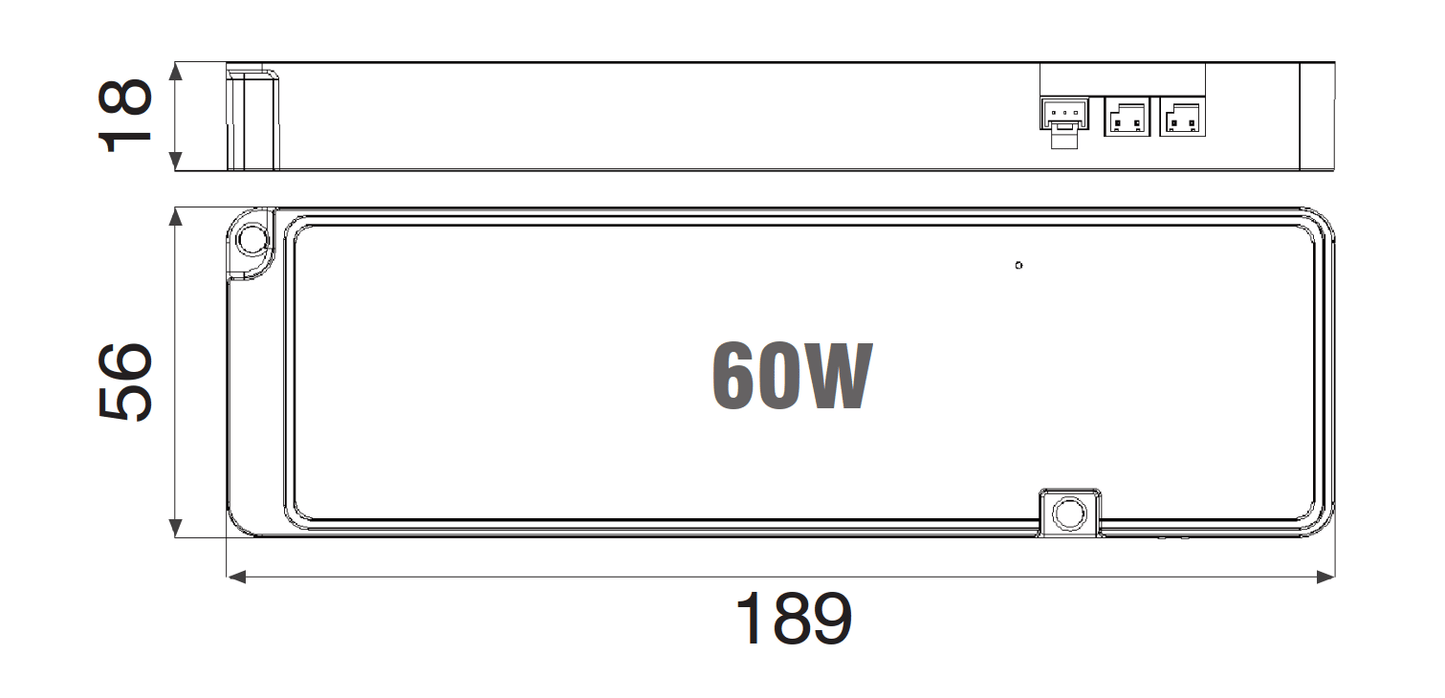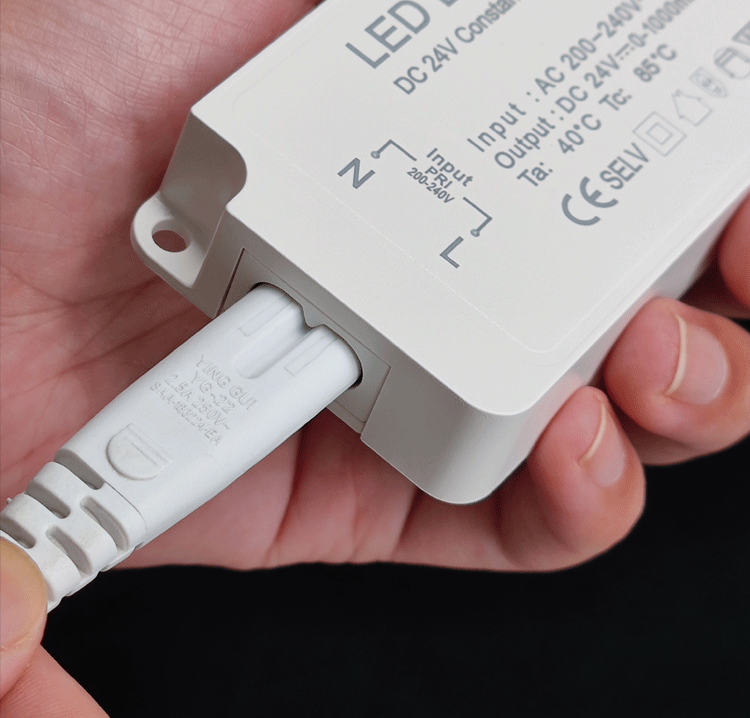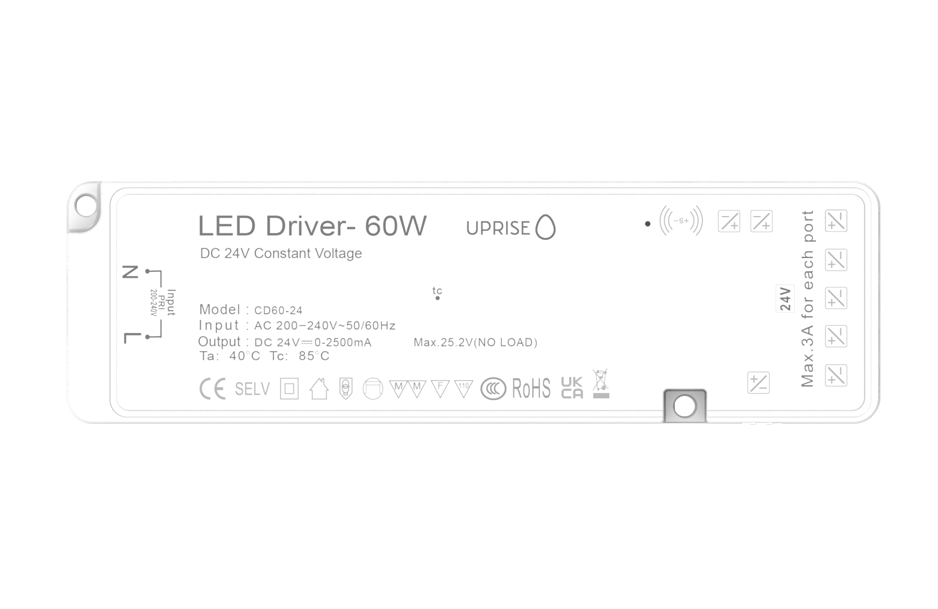 Questions & Answers - LED Strips
Q) Do you have a fast, easy connection system for LED strip lights?

A) Yes typically our COB LED tape lights come with a 500mm lead with a micro male connector that clicks into our range of furniture lighting LED Drivers.

This allows for one of the fastest, simplest LED strip light setups you'll experience.

We also supply male to female micro connector extension leads which are available in 2M/3M/4M/5M/10M/20M lengths. This allows a quick and easy way of getting a cable to an LED strip without the need for onsite soldering.

Overall Benefits

1) Save allot of time onsite or with your project due to click and connect system.
2) Reduce risk of faulty connections due to poor soldering.
3) Allows adaptability in system connectivity for hard to reach areas.
4) Our cabinet LED drivers are also compatible with cabinet sensors such as hand wave, single & double door (for walkin wardrobes / cabinets) and PIR for movement.
5) Our next generation furniture LED drivers offer sensor and remote handset / wifi syncronisation.
Q) Can you help me with my LED lighting project design?

Yes, we're here to help you bring your unique project to completion.

Our team of LED lighting experts with over 16 years experience will go through your project with you and ensure a solution that's best suited for your goals.
Q) Do you supply no dot COB LED tape lights?

A) Yes, Uprise aims to bring you the absolute latest in LED strip technology including "no dot" COB LED strip lights. We're now able to supply COB LED tape at just 3mm wide along with 4mm, 5mm, 8mm, 10mm.

Looking to add spotless COB LED strips for your kitchen under cabiet lighting, within cupboards or within routed grooves? Or perhaps you to light up your bathroom or vanity mirrors? We can help supply a made to measure solution ideally suited for your project.
Q) How do I bend LED tape around a corner?

A) LED tape lights typically flex up/down and not side to side. So there are a options for mounting LED tapes around corners.

Option 1: Mount the LED tape horizontally allowing for it's natural bend ability.

Option 2: For corner applications where the LED tape is mounted and cannot bend you can use corner accessories. This are typically a good option but connections can come lose or degrade over time.

Option 3: Communicate your requirement to us and we can create and solder a corner "knuckle joint" especially for your project. Get in touch today via sales@upriseled.com or 07957 180 481.
Q) Are your LED strip lights available in 12V or 24V?

A) We typically offer both 12V and 24V LED strips. These come in a wide variety of colour options including "no dot" COB LED tapes, single colour, CCT, RGB, RGBW & RGBCCT.
I've heard about 12V, 24V and even 5V LED tape lights, what's the difference?

12V and 24V are the standard for most single colour or colour changing LED tapes.

The main difference between 12V and 24V is how far you can run an LED tape light without voltage drop.

What is voltage drop? It's the distance in which an LED light strip can be powered from one end without the light degrading or "trailing off" in brightness. 24V carries further than 12V before a noticeable brightness drop is visibly seen.

Another key difference you'll notice between 12V and 24V is the "cut points", these are the points in which an LED tape can be cut and are typically indicated by copper pads. With 12V the cut points are usually smaller allowing for a precision fit whereas 24V are usually wider.

So you could say 24V LED strip lights are good for long distance straight runs when you may only be able to feed from one end and 12V are better for smaller lengths where a "precision fit" for the light result is needed.

So what about 5V, what's the deal?

5V LED tape lights are usually associated with flexible Digitial pixel LED strip lights. These come in either single colour, RGB or RGBW and allow individual control over each LED. They can be controlled by SPI or DMX LED drivers or controller receivers. And then pixel mapped by frontend software such as Madrix, Light Jams, ELM or other such software.
Q) Do you supply LED profiles / aluminium channels for LED strips?

A) Yes we offer a wide range of aluminium profiles including the latest generation micro recessed, corner and surface types. Available in black / silver. Complete with blackout / semi-diffuser cover for a seamless light impression.

We also Plaster-in, walkover and circle tube style profiles along with standard sized corner, surface or recessed.
Q) What guarantee or warranty to do you provide?

All our products typically come with a 3-5 year warranty unless otherwise advised.

For modified LED strips by ourselves we offer a 1 year back to base warranty. However we always aim to provide a professional bespoke service. This is extremely unlikely to affect long term performance of the LED strip lights. Typical life estimation for our LED strips are 50,000 hours.
Q) Are your LED strips available in just white or do you offer colours as well?

A) We offer white LED tape lights along with CCT (Colour changing temperature, smart whites), RGB, RGBW and RGBCCT colour changing LED strips.

Whites: 2300K Deep Warm, 2700 Warmer, 3000K Warm, 4000K Neutral, 5000K Natural, 6000K Cool, 6500K Cooler.

CCT (Dual white): 2700K-6000K

RGB: Colour Changing for vibrant colours

RGBW: RGB3000K, RGB4000K,RGB6000K colour changing for vibrant colours, dedicated whites and pastel hues and shades.

RGBCCT: RGBCCT offers the most complete colour rendering. Allowing for vibrant colours and two seperate dedicated whites (typically 3K-6K) for crisp colour selection and toning.
Q) Are LED tape lights flexible? How flexible?

A) LED tape lights are extremely flexible, offering versatility in light planning and integration.

Typically LED tape lights will flex up and down. This allows for straight runs or if side facing to bend at 90 degree angles around a perimeter.

Depending on the LED tape it can also be flexed and folded or "looped" to get around corners within a wide cove integration for example. If in doubt contact one of our support team.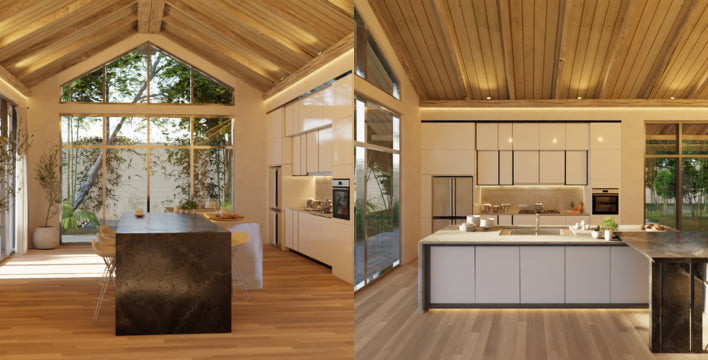 Expert Advise
Call us today on 07957 180 481 or email us directly by sales@upriseled.com and we'll aim to get your project quoted within one hour.